The Durand Neighbourhood Association had their annual party in Durand Park today, and Environment Hamilton was there with some displays including Eat Local, and of course the Climate Change Challenge.

Here Climate Challenge staff Sara gets ready to play the CD map game - turns out the ubiquitous compact disc fits the scale on the map equal to a two kilometre radius - lay the CD on the map and see what is generally a walkable (or easily cycled) distance from the centre.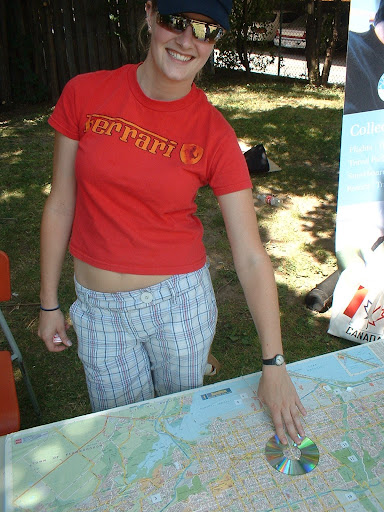 Put the CD on the location of your residence, and see what falls in the circle.

Looking for a new place to live? Check the location out on the map with a CD first and see what is within reach.

Transportation is by far the largest personal Green House Gas contributor to climate change, so not a bad place to start making changes.

The Hamilton Climate Change Challenge will soon be coming to Hamilton neighbourhoods to take GHG pledges to reduce your climate change footprint.